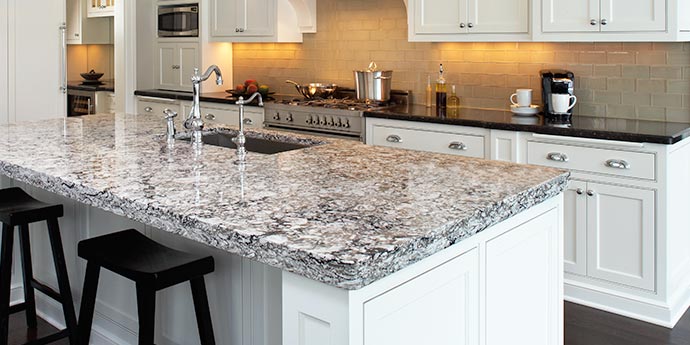 You want to change kitchen countertop but do not know where to start? Follow these steps to choose the perfect countertop for your kitchen. Here are four criteria to help you choose.
#1: Determine your needs
If everyone would like to have a kitchen counter that has only the advantages of being durable, easy to clean, resistant to water, heat, stains, and scratches, and affordable and in appearance, the reality is very different. Indeed, no material is perfect, and each person has his preferences. Not everyone will give the same importance to each of the features mentioned above. 
Some will favor price and ease of maintenance, while others will focus more on aesthetics or sustainability. Also, to help you better understand the features that are most interesting for you, ask yourself about the use you will make of your countertop. Are you going to do a lot of preparation on the surface? Are there children living in the dwelling? Are you ready to allow time for maintenance? How much money can you spend on this project? All of these questions will help you prioritize your expectations. This will make it easier to compromise on certain things if you know what you want and you will be more satisfied with your choice in the end. 
#2: Delimit the space available for the counter
Now that you know a little more about what you want, it's time to take action. Indeed, you need to think about the location of your new countertop. Will it cover a single island or all horizontal surfaces? Decide as quickly as possible and take action: this will help you better organize your project.
Since kitchen countertop materials are typically sold on a square foot or linear foot, accurate measurements will help you get a better idea of ​​the price. Also, you will better visualize your project and can better explain it if you use a designer or a contractor to carry out the project.  
#3: Set the budget for the kitchen countertop
This step is the most important part of the process. In fact, your budget will help you move from dream to reality: in short, it will allow you to know concretely if you have the necessary funds for the realization of your project or not. You may have found the ideal counter, if your budget is insufficient, you will have to find other alternatives.
#4: Choose the kitchen countertop material
The current market offers a wide selection of materials for kitchen countertops. Even if none is perfect, you will certainly find at least one that meets the majority of your expectations. To avoid unnecessary expenses and regrets after purchase, take the time to shop before making your choice.  Compare the prices and check the characteristics of the materials, go on site to touch them, look for cheaper equivalents and make sure you buy from a reliable supplier. If you are confused about which to choose, you can consider Everest Granite. They can help you make a perfect choice.
The more time you invest in this step, the more you will be satisfied with the end result. Who knows? Perhaps you will find a fantastic bargain? The materials generally used for kitchen countertops are granite, slate, marble, quartz, concrete, stainless steel, synthetic, recycled (glass, mirror), wood, laminate, and tile (ceramic, porcelain).